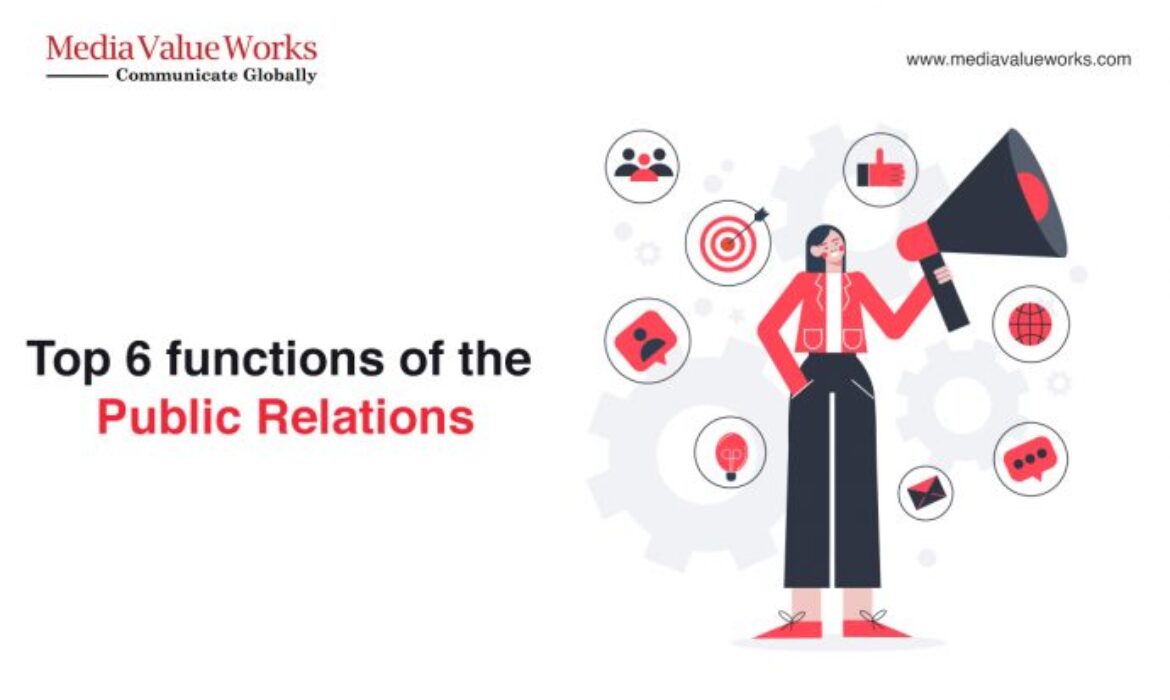 Public Relations is the blend of art and science which manages the flow of communication among an organization and its target audience to build, manage and sustain its positive reputation. It involves monitoring and evaluating public attitudes and maintaining the mutual relationship. The public could be employees, the financial public (shareholders, financial media, investment and financial analysts), potential customers, government, women, youth and the general public.
Let's discuss the top 6 functions of the public relations –
1) Target Audience Relations – For any flourishing enterprise, it is imperative to create and maintain a positive relationship with its target audience. Every activity must be seen, and the voice is heard by the target audience for conveying a strong message that says you are all about the common cause.
The public relations department often works closely across departments to achieve good relations through newsletters, magazines, corporate video, writing brochures, and preparing audio-visual materials for training and policy-transmission purposes.
2) Media Relations – Media is considered a crucial target public is requiring deliberate and effective effort. It is a mutually beneficial relationship between journalists and public relations professionals. One of the most significant benefits for journalists is the easy access to story ideas and sources. The public relation department is the one that supplies all information to media persons and organizations. and are responsible for dealing with and maintaining better relations with the media.
3) Crisis Communication – Crisis communication is all about managing media representation and relationships whenever some kind of threat takes place related to an organization's reputation. People in the public relations department handle the components of a crisis communication plan. They are well versed in designating an official spokesperson, content strategy, and logistics to avert the crisis from happening again. The public relations function entails the development and targeted release of messages, both for the internal and external audience. The spokesperson is trained to manage challenging and hostile questions in a peaceful manner.
4) Lobbying – The Public Relations department comprises highly efficient communication professionals who are well-versed in influencing decisions. Lobbying refers to understanding their clients' concerns, needs, and interests and using their knowledge of the legislative process to educate key decision-makers. It involves interacting with government officials and legislators to influence government decisions that affect the organization's functioning.
5) Brand Reputation – The fundamental function of public relations is to manage and influence the brand's positive perception within the target audience. All brand communication efforts comprise the organization's core values and mission statement, which is reiterated during the dissemination of the message. The PR team communicates information regarding products to the public through media sources, and this leads to comprehensive awareness regarding products among people in the market and boosts brand value.
PR professionals work closely with the marketing team to make noise regarding the product, reinforcing advertising and promotion campaigns. Such strategies are imperative to uphold any enterprise's goodness, prosperity, and common welfare facets.
6) Counseling – The Public Relations department is very energetic and active as they embrace themselves with new happening and trends across the market and daily basis. They did research, so they have a good understanding of the target audience and concerned market. This department plays a crucial role in marketing communication efforts and empowers top-level management to make multiple decisions. It keeps them aware of all public matters and provides them suggestions in case of any problem or product mishap.
Credits:
Content: Vaibhav Chandra
Graphics: Shrikant Landge
Publisher: Media Value Works
Social Media: Ravish Dhiran