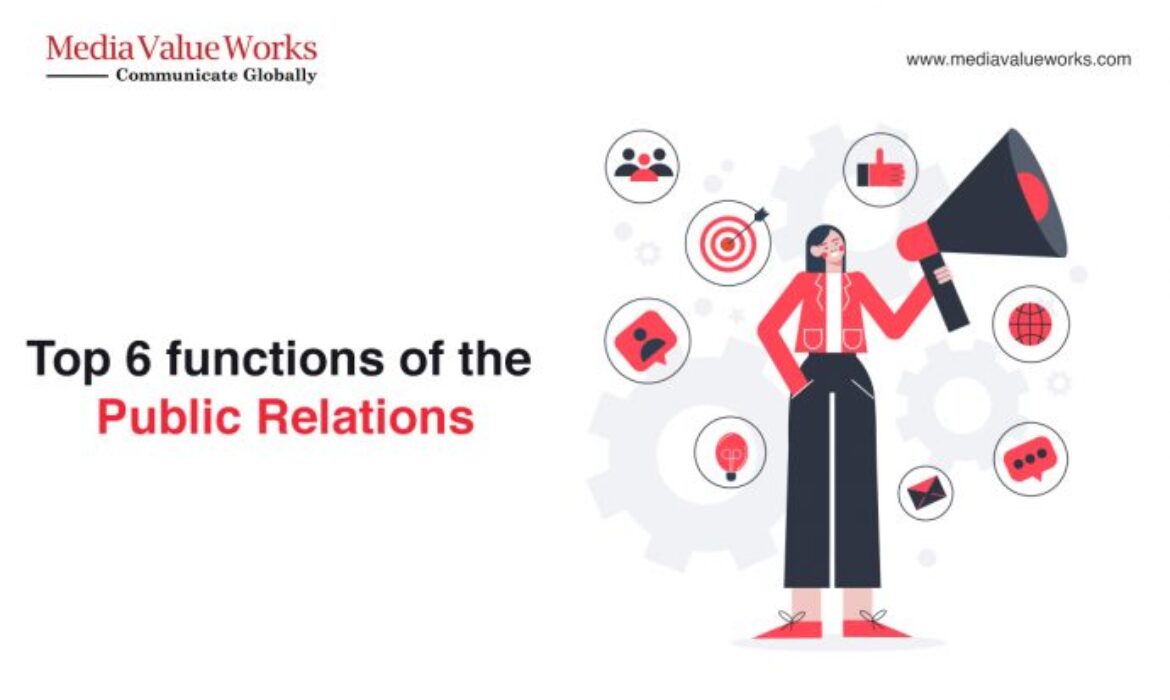 Public Relations is the blend of art and science which manages the flow of communication among an organization and its target audience to build, manage and sustain its positive reputation. It involves monitoring and evaluating public attitudes and maintaining the mutual relationship. The public could be employees, the financial public (shareholders, financial media, investment and financial analysts), potential customers, government, women, youth and the general public.
Let's discuss the top 6 functions of the public relations –
1) Target Audience Relations – For any flourishing enterprise, it is imperative to create and maintain a positive relationship with its target audience. Every activity must be seen, and the voice is heard by the target audience for conveying a strong message that says you are all about the common cause.
The public relations department often works closely across departments to achieve good relations through newsletters, magazines, corporate video, writing brochures, and preparing audio-visual materials for training and policy-transmission purposes.
2) Media Relations – Media is considered a crucial target public is requiring deliberate and effective effort. It is a mutually beneficial relationship between journalists and public relations professionals. One of the most significant benefits for journalists is the easy access to story ideas and sources. The public relation department is the one that supplies all information to media persons and organizations. and are responsible for dealing with and maintaining better relations with the media.
3) Crisis Communication – Crisis communication is all about managing media representation and relationships whenever some kind of threat takes place related to an organization's reputation. People in the public relations department handle the components of a crisis communication plan. They are well versed in designating an official spokesperson, content strategy, and logistics to avert the crisis from happening again. The public relations function entails the development and targeted release of messages, both for the internal and external audience. The spokesperson is trained to manage challenging and hostile questions in a peaceful manner.
4) Lobbying – The Public Relations department comprises highly efficient communication professionals who are well-versed in influencing decisions. Lobbying refers to understanding their clients' concerns, needs, and interests and using their knowledge of the legislative process to educate key decision-makers. It involves interacting with government officials and legislators to influence government decisions that affect the organization's functioning.
5) Brand Reputation – The fundamental function of public relations is to manage and influence the brand's positive perception within the target audience. All brand communication efforts comprise the organization's core values and mission statement, which is reiterated during the dissemination of the message. The PR team communicates information regarding products to the public through media sources, and this leads to comprehensive awareness regarding products among people in the market and boosts brand value.
PR professionals work closely with the marketing team to make noise regarding the product, reinforcing advertising and promotion campaigns. Such strategies are imperative to uphold any enterprise's goodness, prosperity, and common welfare facets.
6) Counseling – The Public Relations department is very energetic and active as they embrace themselves with new happening and trends across the market and daily basis. They did research, so they have a good understanding of the target audience and concerned market. This department plays a crucial role in marketing communication efforts and empowers top-level management to make multiple decisions. It keeps them aware of all public matters and provides them suggestions in case of any problem or product mishap.
Credits:
Content: Vaibhav Chandra
Graphics: Shrikant Landge
Publisher: Media Value Works
Social Media: Ravish Dhiran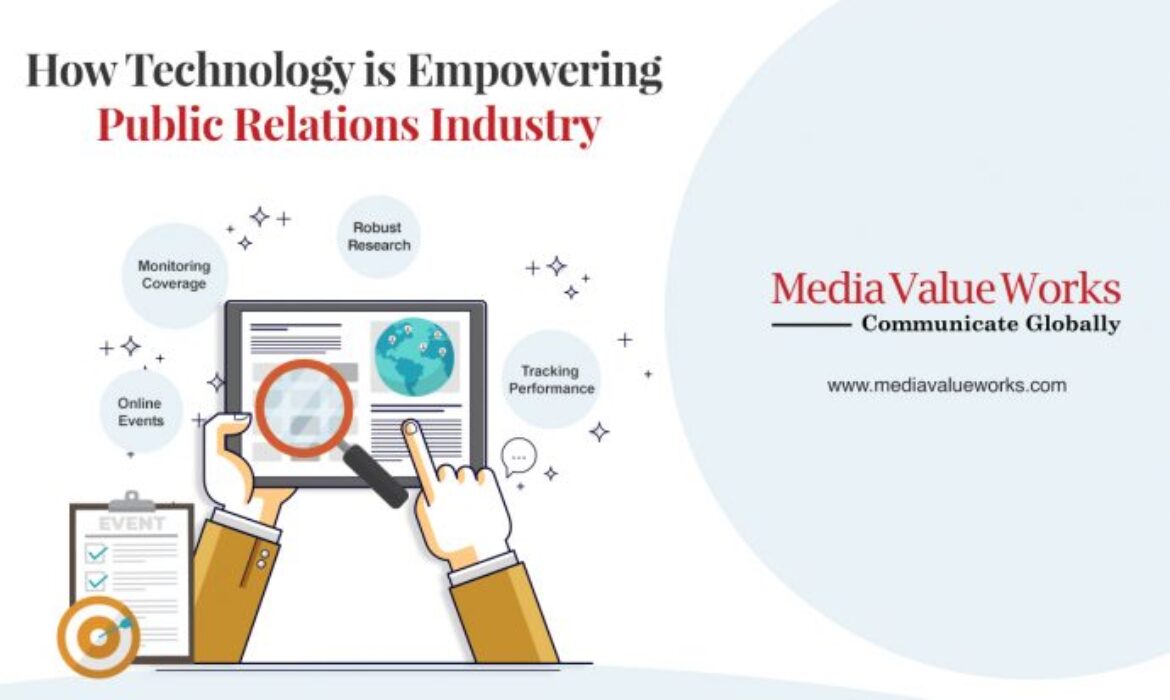 Public relations is a significant consideration for any enterprise. How an organization interacts with their target audience and the impression generated directly projects business benefits and goodwill amongst potential customers and the general public.
Public relations is the most productive and deliberate effort to develop a strong brand image. It strategically communicates and represents an individual or an organization to the target audience to influence public perception. Effective Public Relations efforts are crucial for business development, retaining existing customers, and preventing them from turning to rivals.
Technology has multifacetedly empowered every aspect of modern businesses, and no industry has been left untouched. Tech advancements have shaped numerous previously intense and sophisticated tasks much easier and cheaper to complete, and the public relations industry is no exception to tech advancements.
Monitoring the Coverage
All PR efforts go waste if the coverage garnered across media is not monitored. The surveillance of media and coverage has always been challenging aspects of the public relations industry, but it has changed drastically.
Earlier, media monitoring meant checking the local and national press, mainly via newspapers, television news and radio programs, cutting the newspaper clippings or print coverage and sharing it with the client. Today, many data analytics-based media monitoring tools are available to check online coverage by keywords and social media impressions. More crucial is getting a better understanding of what people are saying about a company on social media.
Robust Research
The majority of pr professionals' time goes into researching and developing effective pr strategies. Research scenarios have changed drastically with the dawn of the internet and search engines. Before the Internet and search engines, pr professionals manually collected information from newspaper clippings, press releases, marketing agencies, magazines, etc.
Today we have most of the information available on just a finger type. Search engines have exceptionally empowered the pr industry to get the research work robust and be one step ahead of competitors.
Tracking Performance
In the Public Relations industry, showing the impact generated is challenging as these services are less tangible than others. It was challenging to show the results of integrated marketing communications campaigns in the past due to manual and non-precise tracking. But the digital world has finally been armed with tools to help with PR measurement and optimization. Setting a list of such KPIs gathers data and analyses the organization's performance. Analytical data generated from online media websites and social media sites, including social media mentions such as tagging, tweeting, etc., consumer surveys to scale brand awareness, and other AI and ML-based tools widely used to determine PR reach.
The metrics and analytics support strategy makers to have a holistic view of the bigger picture and the details about the outcomes of campaigns and future approaches to making new strategies more robust and result-oriented.
Online Events
Holding industry events such as award ceremonies, conferences, seminars, training, skill development workshops, etc., is a thought-provoking effective measure to solidify the organization's presence and voice as a leading industry personality.
Events are the best place to communicate with the potential audience and customers with a common interest. Developing and nurturing relationships is crucial, which leads to fulfilling objective sets such as business development, goodwill management and creating a customer base.
Introducing your client or spokesperson in-person leaves a long-lasting impression as the public remembers by the face, visuals, event ambience, and integrated communication. After the pandemic's inception, most events have shifted to online mode, allowing the maximum number of people to join and pr professionals to publicize on a more prominent front.
The impact of Technology on the public relations industry will continue to evolve in future. Implementing data analytics tools, machine learning, and AI have tremendous potential to empower PR professionals to understand better editors, reporters, bloggers, influencers, and analysts.
Media Value Works have embraced technological advancements and provided its clients with effective and impactful public relations campaigns.
Contact us to learn how we can help you develop a better PR strategy for your business.
Credits:
Content: Vaibhav Chandra
Graphics: Shrikant Landge
Publisher: Media Value Works
Social Media: Ravish Dhiran