What is Public Relations(PR)?
Public relations is about managing and publicizing information on behalf of an individual or an organization to the target audience to influence their public perception.
New age Public Relations refers to the omnichannel engagement activities an organization conducts to communicate, engage, and build relations with the target audience. PR encompasses various marketing activities used to promote and protect an organization's reputation in the eyes of the audience. 
Public relations play a significant role in the contemporary era and is considered an essential practice in marketing communication.
Public Relations is a distinguished management function that empowers an organization to establish and sustain bilateral communication with its varied types of publics. PR is one of the most efficacious and deliberate efforts to develop a strong brand image.
Every organization puts plenty of its resources in executing marketing efforts to run the extra mile to develop and generate goodwill with its various publics. The marketing efforts get stitched into a story with a supported PR strategy, making it visible on larger platforms.
Need for Public Relations 
Considering the multifaceted competition, enterprises must invest in public relations best practices to help achieve their objective efficiently and effectively. Creating a mutual relationship requires the smooth dissemination of highly crafted messages to the target audience. 
PR embraces a scientific methodology and evolves at each organizational level. Deep learning, research, and a fair understanding of marketing, digital, sales, business, technical and sound management knowledge together help churn the right PR strategy for your brand. It has become a prerequisite for every organization to have a robust integrated digital public relations team.
The role and contribution of PR are long-term and strategic. PR needs considerable involvement of the time of the Founder / CEO / Top Management / Board as per organizational structure.
Benefits of Public Relations
In the era of adverse publicity, propaganda and crisis, effective public relations efforts proved to be the opportunity to optimize brand value. They can create mutual understanding between the organization and the target audience. Support from the media and effective campaigns elevate brand credibility while keeping a pleasant and consumer-friendly image. People are also more inclined to pay attention to a message that comes from a neutral source rather than paid advertising.
Public relations empower enterprises to build a robust online presence in a digitally connected world. PR team identifies the best channels and influencers for a company's message to reach out to the right people. Also, new customers are more likely to find their way to engage with an organization if they have a good reputation.
The unique role of PR agencies in brand value optimization
PR agencies play a far-reaching and influential role in transforming the brand value with their highly integrated communication acumen. PR agencies make it possible by assisting organizations in designing the correct messaging to resonate with their target customers in meaningful ways. In the end, this translates to overall company growth and helps generate higher profits.
Strategic PR Consultants assist clients in crafting the right messages, distributing them to the right audiences, and helping build an ecosystem of trust and credibility, leading the client towards becoming a thought leader in the space of their business.
Credits:
Content: Vaibhav Chandra, Simran Jain
Infographic: Shrikant Landge
Publisher: Media Value Works
Social Media: Ravish Dhiran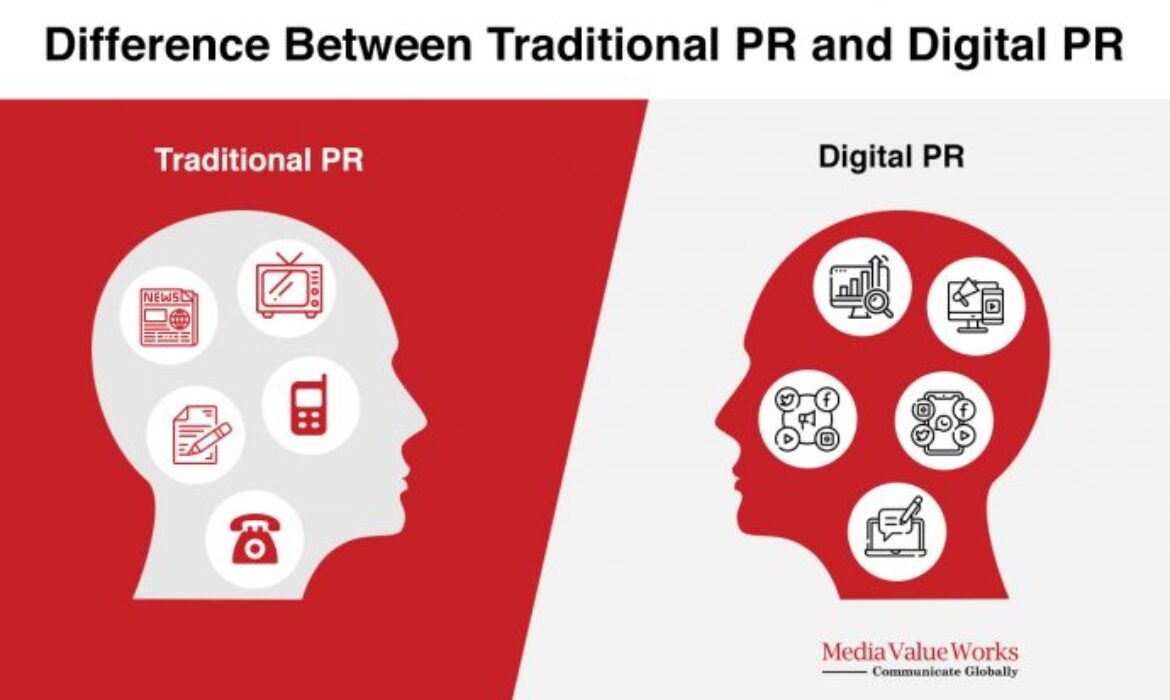 In this ever-changing world, maintaining visibility is a prerequisite for organizations and service providers. The execution of sustaining the organization's visibility among the public cannot be distorted. There is a vital requirement for organizations to communicate with the public to make them believe they are reliable and according to their goals. The mission of traditional and digital public relations is the same. Both have the same plan to increase brand awareness while also putting up a good message to engage with the target audience.
With the advent of online media, public relations have advanced considerably in the last 10+ years. Simultaneously, Digital marketing has become an increasingly significant component of public relations, and online media usage for communication is also increasing.
Do you want to learn how traditional pr and digital pr is different? Digital pr must indeed be integrated into a larger online marketing strategy, and traditional pr does not.
What do digital public relations offer that traditional public relations do not? 
Digital PR aims to integrate public relations with other aspects of your online marketing strategy, such as SEO, lead generation, inbound marketing, etc.
Traditional PR can't help you with SEO or higher search ranks, to name a few. Digital PR, if done correctly, will improve your organization's overall online presence.
Digital PR can help you get high-quality backlinks from high-authority websites, create a usable sales funnel with your content, boost the ROI of PPC ads, and make use of all the social media interaction opportunities.
In a nutshell, digital pr allows you to accomplish far more than traditional pr if you do it correctly.
Do the Messages Remain the Same? 
With digital pr, the message can be far more effective than traditional pr. When engaging with bloggers and online influencers, a greater emphasis must be given to producing high-quality content on a given topic. A topic that the audience will enjoy while also related to your business.
You must be more creative and relevant with your content creation; otherwise, it is unlikely to be published. Traditional pr is more direct and intended for sales purposes.
What Are the Most Often Used Channels and Tools? 
Traditional public relations focus on outlets like the general press, niche printed magazines, television, and radio. On the other hand, digital pr has a plethora of different options. Websites, social media platforms, blogs, influencer campaigns, online news, and video portals.
When comparing traditional and digital pr, there are significant differences in the instruments that must be employed, just as there are substantial differences in the channels available.
To get the most out of digital pr, use keyword research tools, marketing automation software, website research tools, and social media outreach solutions.
Are There Any Differences In-Audience Interaction? 
Interactions with the audience in traditional pr are usually one-way. A press release details about a new product or service launch but don't allow any interaction. Also, you can't measure accurately whether it is effective or not.
On the other hand, digital pr will typically allow interactions and feedback. Your interaction levels will increase if your content is relevant and have an emotional effect on your target audience.
Final Words- Should you go for traditional pr or digital pr?
A healthy mix of both will surely benefit your business. Budget is also a deciding factor about what pr strategy you want to go with. Typically traditional pr costs you more than digital pr.
What are the advantages of working with us? 
Public Relations is a part of deliberate marketing communication efforts, and it is a broad notion that encompasses more than just press releases. To express philanthropy or favorable image of enterprise is accomplished utilizing durable strategic planning, implementation, and assessment. The perception of an organization among its audience matters a lot, leading to an upsurge in business growth.
We at Media Value Works think outside the box and create pr campaigns to help firms gain attention and manage their reputation. Our integrated strategies allow us to identify communication objectives and plan ahead of time for flawless execution. We get to know our clients and their needs before delivering custom communication solutions to businesses worldwide. We examine all aspects of a client's business, including corporate communications, content creation, digital marketing, publishing, analytics, and so on.
To learn more about how we can help you in your business growth, Contact us
Credits:
Content: Vaibhav Chandra, Simran Jain
Infographic: Shrikant Landge
Publisher: Media Value Works
Social Media: Ravish Dhiran